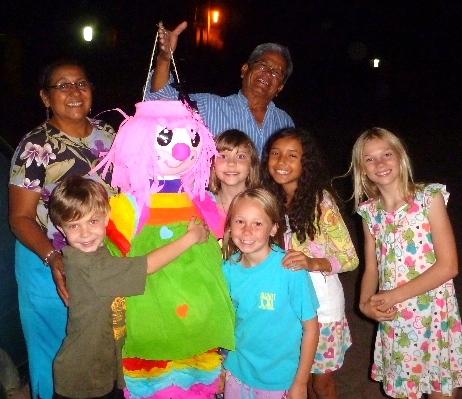 Friends deliver Rebekah's Birthday Piñata
Read more about it HERE
Visas & Permits
We plan to apply for longer term visas in April.  Please pray that we'll be granted them with no crazy issues.  It's been a little different for everyone we know who has applied for this particular visa.  Will you join us in praying that we'll have access to all the documentation we need, favor with officials, and a positive reply from the Mexican Government?
See many new blog updates Click HERE
Praises
• Excellent Mountain Outreach
• Rebekah turned 10!
• New leads into unreached mountain regions
• Kids did well at camp
Prayer Requests
• Long-term Visas
• For those who heard the Gospel during the trip
• Continued favor with village leaders
• Sanctifying work of God in our lives
We're currently living at the Wycliffe Base close to Oaxaca City while our kids attend three weeks of classroom experience for homeschoolers.  They are studying inventors, enjoying creative writing, PE & Art.  They're also loving the opportunity to live near other MK's and playing outside with them daily.  Next week the parents will attend a Language Acquisition workshop.  We're enjoying learning from the Bible Translators on the campus and learning how we can come alongside of and help them with church planting in the areas where they are working.  This time has been very encouraging for all of us.
Click to Support the Hasses
Thank you for your one-time and monthly financial gifts.  They are significant to us and we thank you.  We are currently supported to cover 86% of our monthly budget.  We are happy to share a copy of our budget with anyone who asks.  To mail in support, make check out to To Every Tribe and send with a little note indicating Jim Hasse to:
To Every Tribe
PO BOX 1383
Wheaton, IL  60187-1383
"And let us run with perseverance the race marked out for us, fixing our eyes on Jesus, the pioneer and perfecter of faith."
1 Thessalonians 12:1b-2
Annalise chillin' on our front porch
Book Recommendation!  Available at Amazon and Christian Book Distributors.
 
The Word Will Not Return Void
An update on the Spring Trip into the Oaxacan Mountains 
A few weeks ago we held a medical and dental clinic outreach in a village To Every Tribe has committed to bring the Gospel.  The Center for Pioneer Church Planting (CPCP) sent down fourteen students and one staff member to assist our team for the clinic.  Around six of the students had dental training in the "hand tool techniques" Lori learned a few years ago.  

We do these types of clinics to communicate our love for them and let them know that we do care for them and respect them as a "people group". The village we went to is part of the indigenous Zapotec people that reined the mountains of Oaxaca during the birth, death, and resurrection of Christ.  These people are very much a part of the rich culture of Oaxaca.  For them, the mountains of Oaxaca are not just their home, they are a large part of who they are.  These mountains have secluded them for many years.  The only way to contact them was by helicopter or an insane hike over multiple mountains. Up until around thirty years ago, there weren't any roads reaching them.  Then logging companies started to request their trees in exchange for roads and a few other benefits.  As we drive on these rugged, twisty dirt roads we realize that God purposed these roads to be built for the spread of His Good News.  He is the God that all people must stand judgment after our final hours here on earth. But He cares for us, because He is Love.  The greatest way we can demonstrate our love for these people is to share with them the love of God.   To tell them how He sent His Son to die on our behalf so that God no longer will judge those who trust in Him as condemned, but justified.  Justified, because He is a God of grace.  He gives us mercy so that we can have a new life and perfect fellowship with Him.  That we might praise Him for who He is in this life and the life to come.  This is the ultimate reason for our outreach to these people.  We want to stretch out our hands to the Zapotecs to bring them physical healing, but our ultimate concern is for their spiritual healing.  The physical is only temporal, but the soul is eternal.
 
We want to tell you more stories about the trip, but don't want this letter to be ridiculously long. PLEASE, check out our blog to read stories about the people's response to hearing, for the first time, an audio recording of the Bible in their language, about the couple who undestood the Gospel with joy, the crippled man confined to his bed, and other stories from the trip.
http://www.among-all-nations.blogspot.com/
If you're not able to access the blog, please send us a note at jimandlorihasse@gmail.com and we'll send you an email with the blog content.
 
Kids at Camp
 
Thank you for praying for all of us while we were scattered about.  All three kids were at camp in Puebla for four days.  Jim left on Friday and the kids loaded up on their bus on Saturday morning.  It was not the easiest of partings, but we all survived.  Actually, the kids thoroughly LOVED camp and being with their friends non-stop for four days.  They came back with stories about crazy songs at meal times, all sorts of new games, and skit night.  I'm still hearing more stories about camp.  Micah ended up in a cabin with three boys and three counselors.  That worked out well for him since he was a bit sad about leaving me behind.  Rebekah bunked with a counselor she had met before and made friends with a cabin full of girls she'd not met before.  Elijah was with his friends and had a blast.  They and our other To Every Tribe friends on the trip all seemed to take care of each other when their activities overlapped.  Each of the kids wished that camp had lasted longer than just four days.  I take that as a good sign.
Annalise and I did well together at our home in Oaxaca.  We played games, went for walks outside, watched Elmo and a Barbie movies, ate and took naps.  She learned early on not to climb the stairs without me after she took a four step tumble.  Thankfully she wasn't badly hurt, but did learn not to do that adventure alone.  I really enjoyed having her with me.  She woke up so cheerfully and not so early in the mornings.  It was fun, but busy, having a little one around.  She turned two just last week.  I'm thankful the Lord had a task to keep me busy while Jim and the kids were away.  I think I would have been quite sad at home all alone without Annalise.
The Mission Field of the Heart
"For the missionary, the biggest mission field is his own heart."  
AJ Gibson, To Every Tribe Mexico Field Director

There's something about living in another culture, away from the comforts and distractions of the US, that really brings to surface areas of sin in your life.  I've heard other missionaries speak about it, but now I understand.  When you deal with constant sickness or frustrations and inconveniences, when things in culture don't make sense to your American mind, when everything takes work, sinful attitudes seem to come to the surface.  The Lord has been graciously "cleaning house" these past few months.  I've just started reading a book, How People Change and just picked up another book by Milton Vincent, A Gospel Primer for Christians.  The Lord is showing me some errors in my thinking and is bringing me more in line with Scripture.  I'm sure I'll have more to share with you along the way. Thank you for praying for us along this journey.
Copyright © 2014 To Every Tribe, All rights reserved.
You are receiving this email because you have opted to be a prayer partner for the Hasse family.
Our mailing address is:
To Every Tribe
604 W 6th St, Los Fresnos, TX
Los Fresnos, TX 78566
Add us to your address book
unsubscribe from this list    update subscription preferences