Crowdfunding to Raise funds for Bradley, he was involved in a Motorbike accident, he is paralysed from the chest down & will need specialist equipment. on JustGiving
https://www.justgiving.com/crowdfunding/bradleywelsh?utm_id=2&utm_term=bjZeYvXD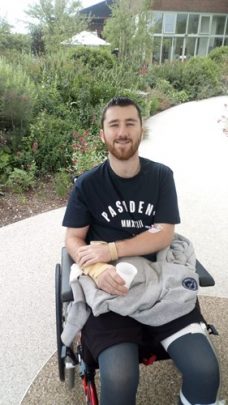 24% £2,451
raised of £10,000 target by 104 supporters Donate
Share
We're raising £10,000 to Raise funds for Bradley, he was involved in a Motorbike accident, he is paralysed from the chest down & will need specialist equipment.
Stoke Sub Hamdon Disability support
What is crowdfunding?
Crowdfunding is a new type of fundraising where you can raise funds for your own personal cause, even if you're not a registered nonprot.
The page owner is responsible for the distribution of funds raised.
We are raising funds for Bradley, he was involved in a motorbike accident. He has sustained life changing injuries as a result of the accident. His spinal cord was damaged and as a result, he is paralysed from the chest down and doctors have said that he will not walk again.
All the very best to Bradley and you and your family too. Love Mary. Xxx
On 2nd of May, Bradley was involved in a motorbike accident
which damaged his spinal cord in 6 places, which paralysed Bert
him from the chest down. Bradley also suffered with a broken wrist and a broken thumb on the opposite side, and a punctured spleen. And also a bleed to the brain.
Bradley was in intensive care for just over two weeks. He was a ghter, strong and became stable.
Bradley had a major operation on his spine where he underwent 6 hours of surgery.
He also has had an operation on his thumb and his wrist where he has had metal work inserted to help the use of his wrist and thumb.
Bradley is now in his 3rd hospital, in a rehabilitation unit where he will undergo rehabilitation in order to learn how to use a wheelchair and prepare him for life at home.
Bradley's parents house will need adapting in order for Bradley to go home. This will need to be adapted to cater for all of Bradley's needs.
Good luck with your recovery.- From a fellow biker.
£10.00
Judith Thompson Aug 30, 2019 Good luck. You will succeed.
£15.00
Rebecca Roberts Aug 29, 2019 Wishing you all the best for your recovery and hope you can be home with your family soon Xx
£20.00
Anonymous
Good luck.
£5.00
Anonymous Anonymous
Aug 28, 2019
Aug 27, 2019
Aug 27, 2019
He will also need carers and specialist equipment. Any donations to this cause will be gratefully received!
All the best for your recovery
Become a supporter
Help Sarah arscott raise more
Donate
Updates
10 days ago
1 month ago
Share this update to help us raise more
Sarah arscott
We are overwhelmed by the generosity and best wishes we have received. 13 % already raised. we can't thank you enough. Bradley has come so far since may and has such determination and ght to do as much as he can. Bradley has his low days and longs to come home but has amazing support from family and friends. This fundraiser will allow him to come home and supply him the equipment to live his life, Thank you very much for all your support.
Share this update to help us raise more
Sarah arscott started crowdfunding
Leave a message of support
2 Comments Sort by Newest
Cllr Mike Hewitson
If I can be of any help please get in touch. My contact details are on the link.
http://modgov.southsomerset.gov.uk/mgUserInfo.aspx?UID=1445
Best wishes,
Mike Hewitson, District Councillor for Hamdon
Like · Reply · 5 · 3w Joyce Smith
Have you tried DIY SOS with Nick Knowels for the alterations required to your house Sarah.
Like · Reply · 3 · 4w Facebook Comments Plugin
Page last updated on: 8/31/2019 18.40
Crowdfunding stories like this
Help Get Funding Towards Seating And The Correct…
Sarah Lowther
£80 raised by 5 supporters
Fund Baby Khaya's Heart Surgery He Is 5 Weeks Old…
Siphilise Loreta Zikhali
£150 raised by 5 supporters
Help This Handsome Man. Vincenzo Was Admited To…
Kelly Healy
£270 raised by 18 supporters
About the fundraiser
Sarah arscott Stoke Sub Hamdon Contact Sarah arscott Report this Page
For Fundraisers & Donors
Raise money for a charity Start crowdfunding
Your fundraising
Help & support
Terms of Use Privacy policy
For Charities
Join JustGiving
Log in to your charity account Help & support for charities Read our charity blog
Cookie policy
For companies & partners
Corporate fundraising Event partners Developer tools
About JustGiving
Who we are
Careers at JustGiving Media centre
Giving.com trading as JustGiving is authorised and regulated by the Financial Conduct Authority (FCA) under the Payment Service Regulations 2017. Registration number: 793668
Contains OS and National Statistics data © Crown copyright and database right (2018). Contains Royal Mail data © Royal Mail copyright and database right (2018).