In Memory
This area of the site is in memory of my late wife Susie. She passed away tragically in April 2007. Here you will find Sue's beautiful music, her pictures, and tributes to Sue by those that loved her. She will always be in our hearts.
Sue Bundrick Fund
Sue's daughter Cathy has set up a rescue fund for animals in memory of her mum. Sue always loved animals, and gave special support to Cathy when she rescued her 3 dogs & 2 ponies! Visit Once Loved Dog Rescue.
Who Documentary
I am currently in front of the cameras for a documentary film about the Who tour. The film is going to be dedicated to Sue. Check back for more information on this.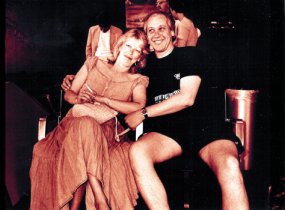 Beautiful Sue
We little knew that morning that God Was going to call your name. In life we loved you dearly, In death we do the same. It broke our hearts to lose you, You did not go alone; For part of us went with you, The day God called you home. You left us peaceful memories, Your love is still our guide; And though we cannot see you, You are always at our side. Our family chain is broken, And nothing seems the same; But as God calls us, one by one, The Chain will link again.