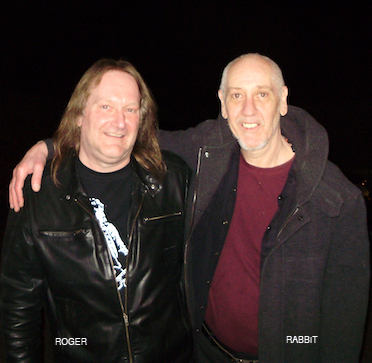 A UNIQUE EVENING OF
MUSICAL PLEASURE
in Aid of
SATURDAY 2nd APRIL 2011
At: Highworth Methodist Church
Lechlade Road, Highworth, Swindon, SN6 7HG
Doors Open 6.00 pm.
NIGHT PARADE
With Special Guest John "Rabbit" Bundrick from The Who
ANNA CORCORAN
With Phil Spalding
HANNAH CLIVE
A Sweetheart with a Sweet Voice
Refreshments Included and 'Meet & Greet' the performers after the show.
TICKETS £6.00 from Denise or Sue 01793 762365 Office Hours
OR from Gloucester House, High St, Highworth
4 Lads From Liverpool
From London
From Liverpool
BUY A BED. . .SAVE A LIFE
GLOUCESTER HOUSE ADDICTIONS
REHABILITATION CENTRE
Pop druggie in Swindon charity concert
8:00am Monday 4th April 2011
THERE was not a spare seat in the room when rocker Phil Spalding took to his guitar to raise money for the charity that saved his life.
Phil, 53, of Rodbourne, held a charity concert in Highworth on Saturday night to raise money for Gloucester House Rehabilitation Centre, where he turned in 2005 to kick his heroin addiction.
The crowd was also treated to a performance by Phil's long-term friend The Who keyboardist John 'Rabbit' Bundrick.
About 200 people attended the concert in aid of Gloucester House's Buy a Bed, Save a Life campaign.
Phil said afterwards: "I used to do this when I was stoned or drunk and doing this clean and sober is a really scary feeling."
"The centre was able to help me get a new life. I was dying when I went there. I have just about become brave enough now to start doing something like this. Many people who know me were very happy to help because they knew how messed up I was."
He performed well-known favourites including True Colours and Hallelujah, alongside pianist and singer Anna Corcoran, as well as songs she has written.
John Bundrick, who has been part of The Who since 1979, played alongside Liverpool band Night Parade.
He said: "I am proud to have been asked to do this. I went to Alcoholics Anonymous, one day I saw a hand switch off a light switch and I haven't drunk since. I have been sober now for around 15 years.
"Pete (Townshend) has been my saving grace, we are very close in an odd sort of way. We know when we look at each other when we know we are connecting."
There was also a performance from Hannah Clive at the concert, which was held at Highworth Methodist Church.
Susan Tollington, centre manager at Gloucester House who helped and counselled Phil from the day he arrived at the centre, was watching the performance.
"More than £1,000 has been raised today which means we can sponsor some more clients through Gloucester House," she said.
"We can give somebody a chance to get a new life."
For more information about Gloucester House call 01793 762365.
Thanks to all who supported our special concert which was promoted by a former resident.
The fund raising event took the form of a Mini festival at Warneford School, Highworth, on Sunday 5 December 2010.
Internationally renowned bass guitarist Phil Spalding has played on recordings by Elton John, Robbie Williams, Mick Jagger, Kylie Minogue, Jo Cocker and Seal. He has also worked with The Who's Roger Daltrey and has persuaded a couple of mates, John Bundrick and Simon Townshend, from the iconic rock band to give up their time to join him performing at a mini music festival at Warneford School Highworth,
Phil is a recovering addict who, five years ago, undertook a course of rehabilitation at Gloucester House. He is an enthusiastic supporter of the centre's 'Buy a bed … save a life' appeal set up to attract funds to cover the cost of rehabilitation for those who do not have recourse to public funds and in appreciation of the help he received he now wants to use his contacts to help swell the coffers.
On the advice of Roger Daltrey Phil arranged for a small scale concert to be performed and promoted free of charge by some of his friends in the professional music business. These include 'Night Parade', an emerging band from Liverpool being promoted by former 'The Who' keyboard player John 'Rabbit' Bundrick who also performed with them on the night. Other artistes were Simon Townshend (brother of 'The Who's Pete Townshend), Anna Corcoran and a collection of older musicians who perform by the name of 'Space Odic Samurai'.
Phil successfully negotiated the recovery programme at Gloucester House. He is fully committed to a new life of abstinence from drink and drugs.
"It is possible to live today without recourse to the use of drink and drugs to solve problems," says Phil. "My five years of abstinence have been nothing short of amazing."
"The people at Gloucester House do amazing work and without them I wouldn't be here today. Everyone deserves a chance in the eyes of God."
"Gloucester House provides a service for a lot of people who wouldn't otherwise get the opportunity to turn their life around. I'm talking about people from the street, prison, hostels and other such places which result in dissolution and despair. This is a matter of life and death and nothing is more serious than that. It's about inclusion not exclusion. We're hoping that through our concert the 'Buy and bed … save a life' appeal will garner the attention that it undoubtedly deserves."
Last month Phil celebrated five years of abstinence through the support given by Gloucester House and his on-going membership of 12 step fellowships.